In-person real estate conferences saw a remarkable comeback in the last few years. And among the many conferences lined up for this year, Tom Ferry Success Summit 2023 stands out.
This event maintains its unrivaled status as the pinnacle of real estate conferences. It draws thousands of industry professionals from across the globe, attending to enhance their skills and engage in professional networking.
Continue reading to learn the five reasons why this standout event is worth your time and attention. We will also share the top five ways to maximize your networking initiatives during the conference.
Table of contents
Tom Ferry Success Summit 2023: What is it exactly?
The Tom Ferry Success Summit is an annual, highly-anticipated event that brings together real estate professionals from across the globe.
The 2023 edition of this summit is scheduled to happen in Dallas, Texas, from August 22-24, 2023.
Tom Ferry, renowned real estate coach, speaker, and author, leads this event. The conference also features a lineup of industry experts sharing proven strategies and cutting-edge approaches.
Expect an immersive and dynamic environment filled with keynote speeches, panel discussions, workshops, and networking opportunities.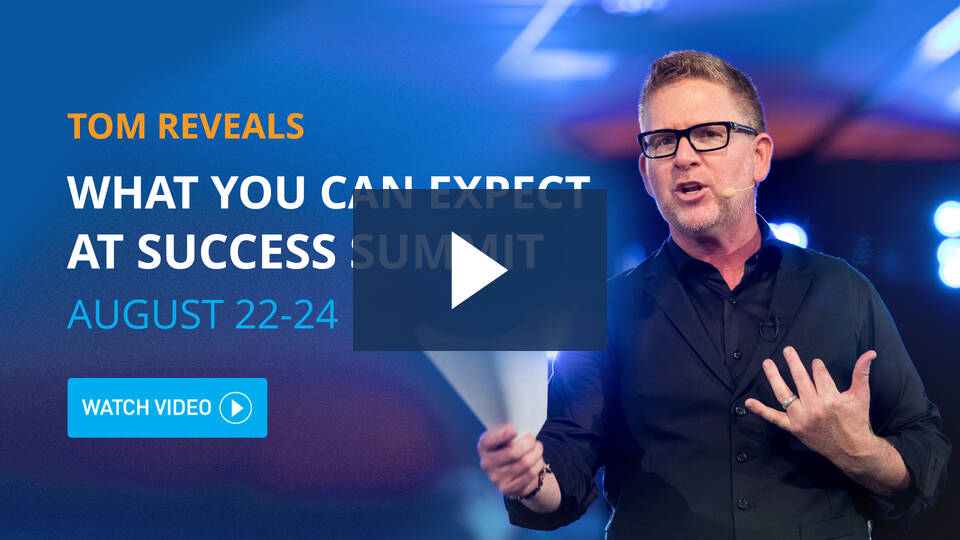 Source: Tom Ferry Success Summit 2023
5 Compelling reasons to attend Tom Ferry Success Summit 2023
1. Learn from phenomenal keynote speakers
The Tom Ferry Summit 2023 features many industry leaders as keynote speakers, offering you unique opportunities to learn from the best in the business.
Tom Ferry is himself leading 13 action-packed sessions at this summit. Other notable speakers include Jimmy Mackin (Curaytor, CEO), Steve Harney (Keeping Current Matters, Founder), and Jeff Mays (Coldwell Banker Prime, Owner and Broker).
You can use the insights gleaned from these experts to improve your real estate career or business.
2. Gain action-oriented ideas and processes for your real estate business
Tom Ferry's real estate coaching events are undeniably motivating.
But the real value you derive is learning the action-oriented ideas, systems, and processes industry leaders use to maintain their success streak.
Look forward to learning valuable real estate strategies this year, including:
"The Path Forward: 7 Strategies for Growth" in real estate from Tom Ferry
"How to Immediately Alleviate Client Fears" by Steve Harney
"Mastering Listing Attraction" from Jimmy Mackin
Expect to receive many action-oriented ideas and gain the clarity you need to identify and act upon your business's most crucial action items.
3. Get a chance to network with like-minded professionals
Networking is an essential aspect of this conference. You will have many opportunities to connect with fellow real estate professionals deeply committed to their businesses.
During the "Welcome Reception" segment on August 22, 2023, you can exchange ideas and contact information to foster new relationships.
Remember, fostering connections with the right people can significantly impact your success, regardless of your real estate niche.
4. Analyze your real estate competitors
Your competitors will also be present at Tom Ferry Success Summit 2023. Grab the opportunity to learn the strategies that give your competitors an edge. Analyze their approach and identify untapped opportunities for growth in your own business.
5. Remain relevant in a rapidly-changing industry
Dive head-first into the latest trends and technologies shaping the real estate industry.
For instance, Tom Ferry Success Summit 2023 will feature a session with Jason Pantana (renowned real estate coach) on AI. This session will help you boost your business output with artificial intelligence.
Knowing the latest trends and innovations helps you adapt and stay relevant to real estate's dynamic landscape.
How much does it cost to attend the Tom Ferry Success Summit 2023?
Tom Ferry Success Summit 2023 offers four plans so you can choose the one best suited to your needs:
| | | |
| --- | --- | --- |
| ATTENDANCE TYPE 🆎 | HIGHLIGHTS ✨ | PRICING 💰 |
| In-Person 🚶🏽 | The basic in-person pass. Must-have for the best experience. | $799 |
| Livestream 🧑‍💻 | Cannot attend the summit in person? Experience it virtually. | $649 |
| VIP 👑 | Elevate your experience with the VIP bundle. Comes with value-added benefits. | $1799 |
| On-Demand 📽️ | Relive every session at your convenience. Get on-demand access to event recordings later. | $250 |
💡 Tip: To make the most out of the event, we recommend going in person because the actual value of these events lies in face-to-face networking.
5 Ways to network better at the Tom Ferry Success Summit 2023
1. Use a digital business card as your networking tool
Carrying hundreds (or thousands) of paper business cards to the event is tedious and impractical.
Your recipients might easily set aside or forget about your paper business cards due to event-related distractions. Worse: you might run out of cards!
Switching to a digital business card (or e-business card) can solve these issues. This modern and paperless alternative helps you stand out for these five reasons:
You can share your digital business card via Apple Wallet (or Google Wallet), QR Code, or URL. These contactless methods enable frictionless sharing and exude professionalism.
Digital business cards can house unlimited information, unlike their paper counterparts. Showcase as many phone numbers, URLs, and social proofs as your recipients require.
Digital business cards are highly interactive. Your recipients can interact with all the information you share in a click-to-access manner. They do not have to manually access or save the information from your card.
Digital business cards streamline contact exchange. Your recipients can save your contact details with a single tap. If they wish to share their information in return, they can do so via a two-way contact sharing form on your card. You can then easily transfer your recipients' data to your CRM.
You can track and analyze digital business card engagement metrics. These metrics include total card views, number of contact saves, card views by city and location, and more. 
Read more: Why should you use digital business cards at the Tom Ferry Success Summit 2023
2. Learn about the event's attendees in advance
Take the time to research your fellow attendees before attending the summit.
Look for potential connections and familiarize yourself with their backgrounds, achievements, and areas of expertise.
💡 Pro tip: Check if colleagues from competing firms will attend the event. 

Use Facebook groups (the most popular social platform for realtors), Twitter threads, or Reddit subs to get a feel of the event's buzz. Checking comments on the event's YouTube videos is also an excellent way to learn what others think.

The idea is to get a general perception of what your peers say about the event.
Understanding their interests and goals lets you engage in meaningful conversations. It shows that you value their time and are genuinely interested in building a long-term relationship.
3. Perfect your elevator pitch
A well-crafted elevator pitch grabs attention and sparks interest, making you memorable to prospects, collaborators, or partners.
Craft a compelling and concise elevator pitch that succinctly describes who you are and what sets you apart in the industry. Practice your pitch beforehand and be ready to confidently deliver it whenever an opportunity arises.
💡 Pro tip: Including your entire work history in elevator pitches can be tempting, but experts advise against it. As per reports, the ideal elevator pitch is less than a minute long. 

"Pick one or two things that would be most relevant to your audience to share," says Tony Frana, a career expert at Flexjobs.
4. Project a professional and tech-savvy image
Your appearance and conduct are essential to effective networking.
Dressing professionally and appropriately for the event helps reflect your brand and make a positive impression.
You should also maintain a friendly and approachable demeanor, show genuine interest in others, and actively listen before speaking during conversations.
5. Leverage the real estate playbooks shared at the summit
Tom Ferry Success Summit 2023 provides attendees with six playbooks:
Digital Dominance
Breakthrough to Buyers
Systems that Work
The Listing Expert
Listing Attraction
Multiplier
The Referral Pipeline
Each playbook consists of techniques and strategies you can follow to get a specific result for your business.
You can also proactively discuss these playbooks during networking interactions, sharing insights, and exchanging ideas.
Maximize your networking results at the Tom Ferry Success Summit 2023 with Beaconstac

Beaconstac's digital business card solution provides all the functionalities you and your team need to network efficiently using digital business cards.

Create digital business cards at scale and share them via Apple or Google Wallet during the summit. Use Two-Way Contact Sharing to conveniently capture your recipient's contact information from the card you share.

Moreover, Beaconstac safeguards your networking activities during the event with industry-leading, enterprise-grade security. The best part? You and your team can access these functionalities without downloading an additional application.
Frequently asked questions
How to make the most of every Tom Ferry Success Summit?
Conduct the following activities to make the most of every Tom Ferry Success Summit you attend:
Get to know the speakers and attendees and prepare a quick elevator pitch.
Network actively and use digital business cards for impactful contact exchanges.
Engage in sessions and workshops that align with your interests and goals.
Dive deep into the real estate playbooks you get during the event.
What should you bring to the Tom Ferry event?
Bring essential items such as a notepad and pen. Use digital business cards as your primary networking tool when connecting with like-minded professionals, and remember to bring enthusiasm and a positive attitude for a great overall impression.
Who is the CEO of Ferry International?
Tom Ferry is the CEO of Ferry International. He spearheads the annual Tom Ferry Success Summit, driven by his passion for helping professionals thrive in their real estate careers.
---
Related Posts
---